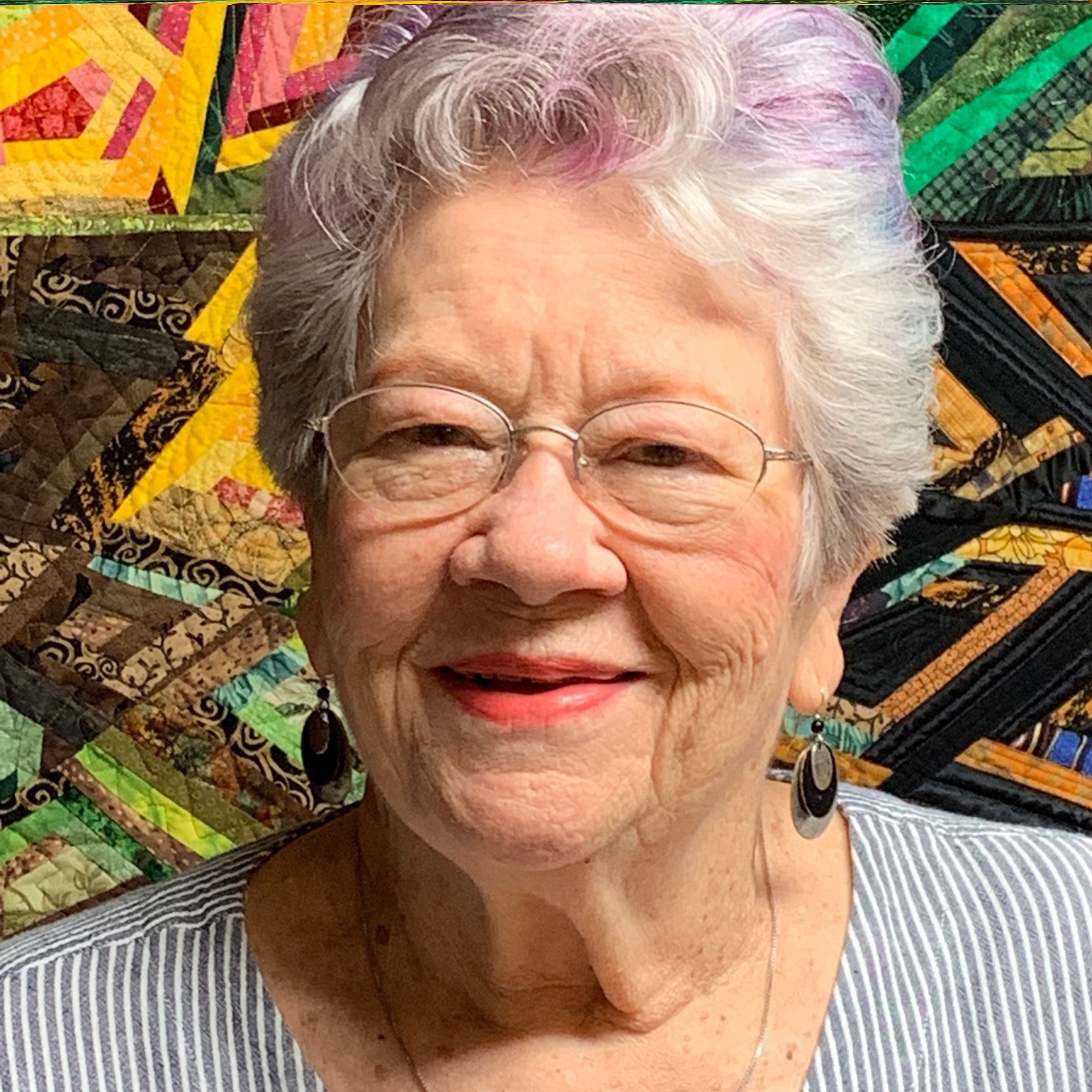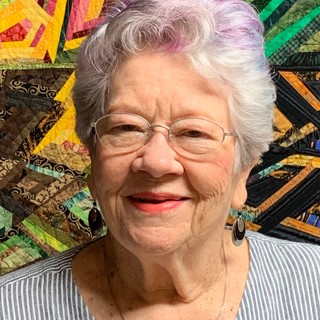 Martha Ginn is happiest when she has fabric, needle, and thread in her hands. The beauty of the natural world offers constant inspiration and, sometimes, hearing music brings on visions of color. Trees and leaves are a favorite subject, as well as flowers and her three cats.
Ginn has sewn clothing and handwork projects since her youth, and she began to make traditional quilts as an outgrowth of enjoying these creative activities. In 1984, she searched for other quilters for inspiration and camaraderie and soon helped form Pine Belt Quilters in Hattiesburg. In 1991, there was sufficient interest in quiltmaking that a statewide organization, Mississippi Quilt Association, was formed, and she served as its first president. With no formal art background, she immersed herself in quilt classes, books, festivals, shows, and retreats. Drawing classes sparked her interest and built her skills, and her quilting soon became fiber art and "quilts for the walls" as she abandoned patterns to create her own designs.
Ginn's quilts and fiber art creations have been juried into International Quilt Association shows in Houston, Texas, and American Quilters Society shows in Paducah, Kentucky; the Greater Wisconsin Quilt Show; and shows sponsored by Gulf States Quilting Association, Pine Belt Quilters, and South Mississippi Art Association. She traveled to Beijing and Dalian, China, at the invitation of the U.S. Embassy, South Arts (Atlanta), and Arts Midwest (Minneapolis) and spoke at schools and museums.
Publications featuring Ginn's work include quilt magazines (The Quilter Magazine and American Quilter) and books, such as Mississippi Quilts (a documentation project conducted by Mississippi Quilt Association), Quilt Style by Lucy Fazely, and Joen Wolfrom's Color Play. The exhibition catalog for the China exhibit, The Sum of Many Parts: 25 Quiltmakers in 21st Century America, featured Ginn's quilt, Rise and Shine Inner City, on the cover. The exhibition traveled to six venues in China, followed by a scaled-down version in the United States.
She is a member of Pine Belt Quilters, Southern Fiber Artists, Mississippi Quilt Association, Gulf States Quilting Association, American Quilters Society, South Mississippi Art Association, and Studio Art Quilt Associates.
She looks forward to many more days of creativity with handwork or at her sewing machine with the company and assistance of her cats. She can also be found blogging at www.marthaginn.com
Read More