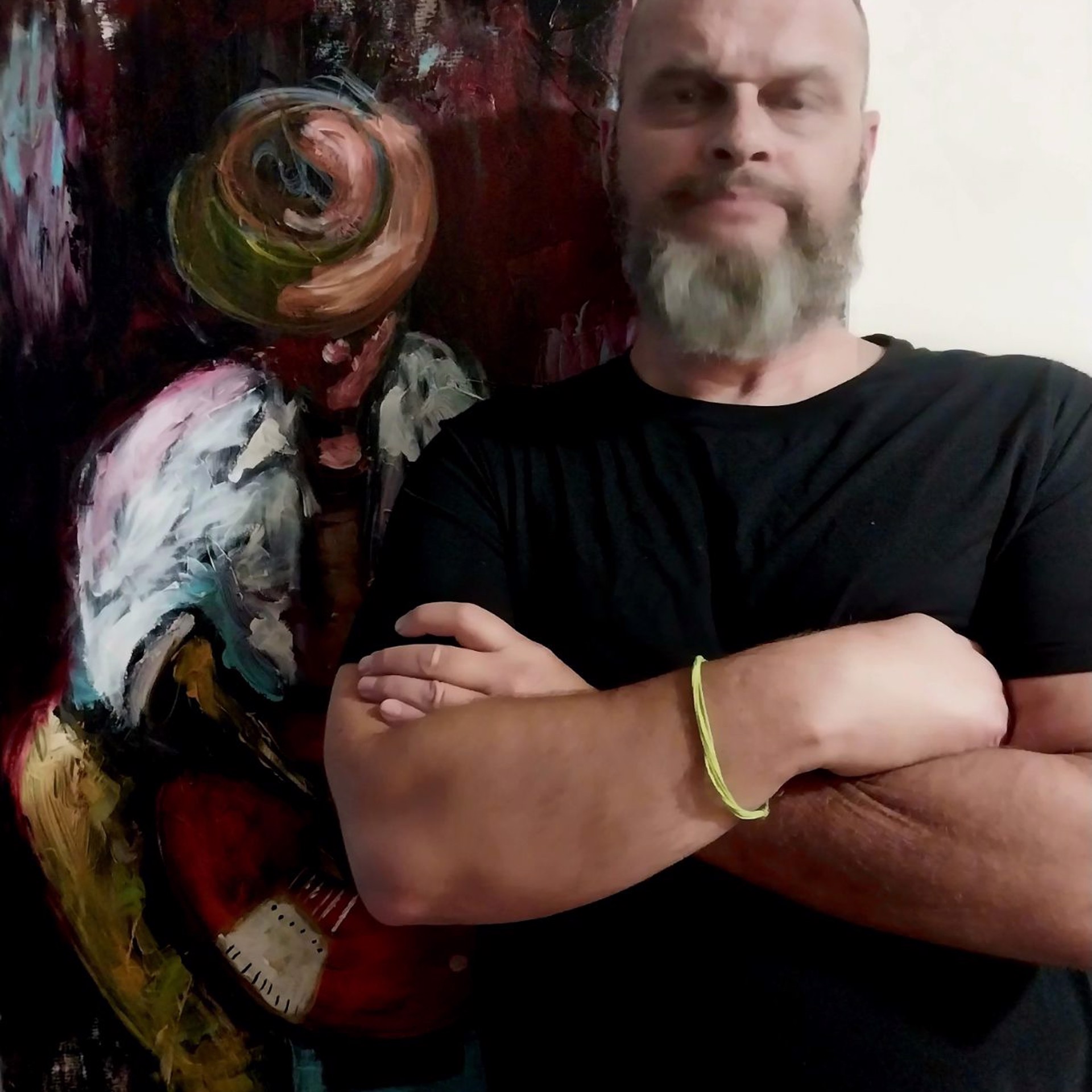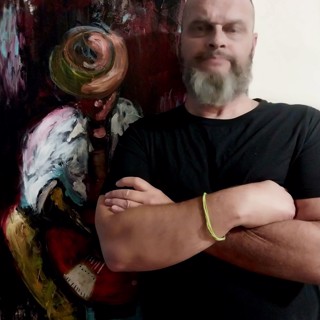 Cliff Speaks is a native of Brandon, Mississippi. Cliff grew up in Mississippi and still continues to call it home. His art is reflective of growing up in Mississippi. His work has rich integrations of such art movements as the Mexican Muralists, Abstract Expressionism, Fauvism, Cubism, and Pop Art. His work draws on the approach of a variety of artists such as Jackson Pollack and Vincent van Gogh.
Cliff arrived at painting by way of graphic design. This background acts as a bridge to transmute the realm of the ear to the realm of the eye. Line, form, and design under the hegemony of color laid down patterns of syncopation, beat, rhythm, melody, harmony, chord, and scale. Instruments, instrumentalists, and music merge into single visual compositions that "sound" joyful notes to optic nerves. Cliff says "I am especially attracted to music. Music is often a theme of my work. I see blues, punks, rockabilly, classical, and soul."
In addition to his abstract and abstract-figurative paintings, Cliff produces pure figurative works. He is a master of creating visual performance on canvas. The viewer cannot help but recognized the type: self, friend, family members, or a universally-known stranger. Cliff's great affection for southern culture and imagery is the impelling inspiration.
Cliff's abstract depictions and his figurative representations, both driven by a powerful use of color, endear the archetype, lift it to a joyful and soulful place, and offer to the viewer as refreshment for heart and mind.
Cliff holds a Bachelor's of Fine Arts degree from the University of Southern Mississippi. He has done commissions for the band Three Doors Down, and the Pearl River Casino. His works have appeared in galleries and exhibits from New York, to Australia. Cliff works from his studio in Brandon, Mississippi.
To view and purchase work to PACESETTERGALLERY.COM
Pacesetter Gallery features Mississippi art and unique Mississippi art gifts and is located at 310 Ridge Way in Flowood, MS. The gallery was voted Best Art Gallery in Mississippi/Mississippi Magazine 2023 and champions Mississippi original art and artists.
Read More