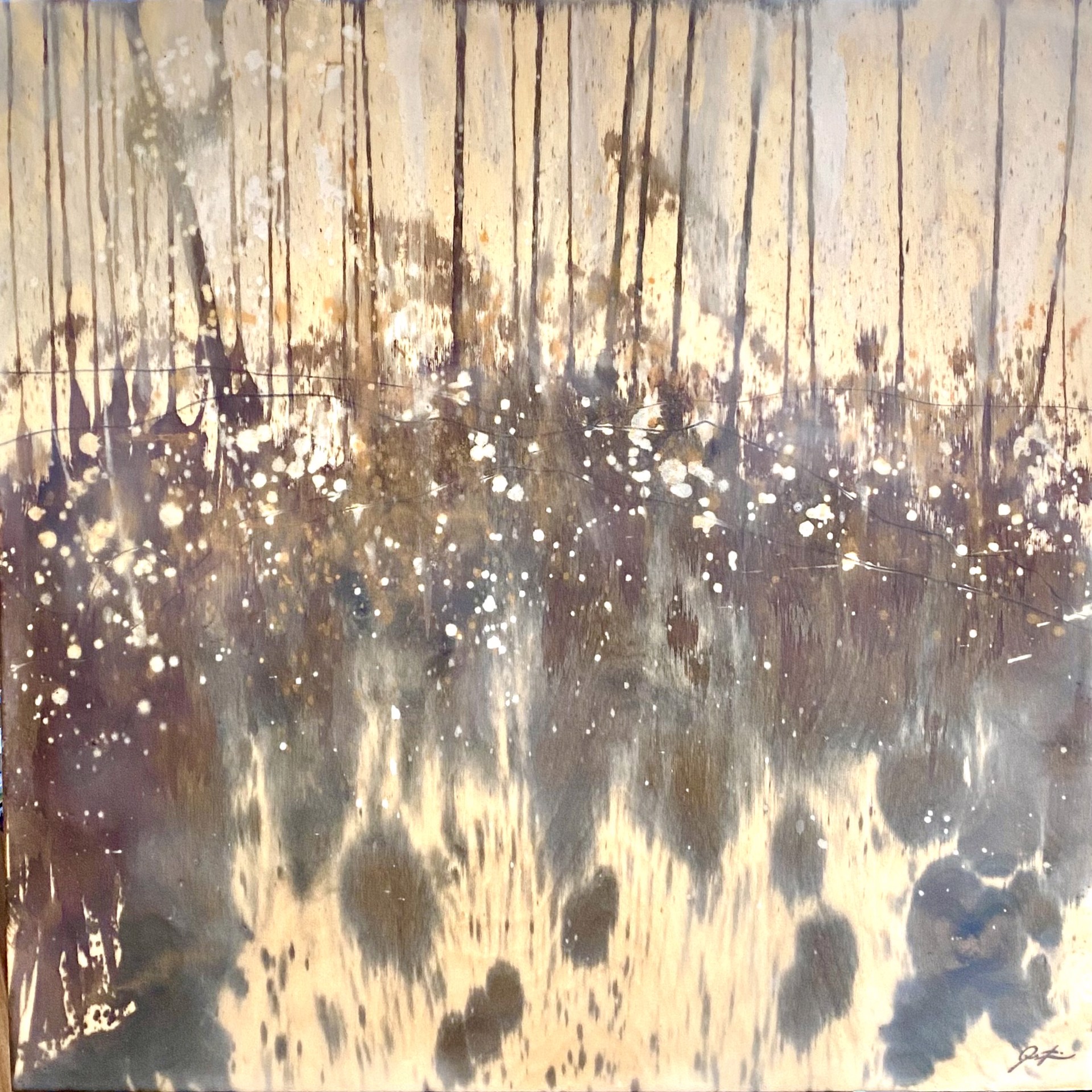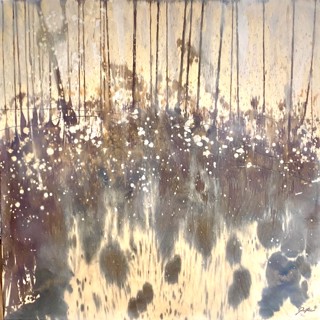 American artist Justin Selway brings his unique style and experience to encaustics, an ancient medium used by the pharaohs. Using beeswax, damar tree resin, pigments and fire, Justin creates stunning textures and depth to create a beautiful piece of encaustic work. Although encaustic is one of his newest passions, he brings to it many years of creative experience. Justin is also known for his watercolor, acrylic paintings and award-winning design work. As a textile designer, he has developed some of the most effective and top grossing camouflage patterns in the hunting industry.
He is an avid outdoorsman who grew up in southwest Montana. As a child he enjoyed ranch work, fly fishing, hunting and hiking in some of the most beautiful places Montana has to offer. After the fall hunting season, Justin would head to the local ski area and stay at the family cabin in Grasshopper Valley. This area brought forward opportunities for adventure and creative thinking. Justin was dedicated to drawing and painting, entering local art shows and displaying work in local galleries from a young age. Also in his youth, Justin worked summers as a firefighter for the U.S. Forest Service where he was able to travel and work with many great people. The work was physically demanding, the terrain often unforgiving, but the setting was always beautiful and inspiring. He was able to experience things in nature that others never get to see.
Justin moved to Washington to attend The Art Institute of Seattle earning an Associates Degree in Graphic Design and Advertising. This was his first taste of urban life and new adventures in the art world were all around. After graduation, he moved back to Montana to work for an advertising agency in Helena, MT and soon moved on to freelance Graphic Design. This followed with work at Montana Magazine in Helena, The Montana Standard newspaper in Butte, MT and several other local businesses. In 2000, Justin presented his first of 5 poster designs for the Bannack State Park to Governor Marc Racicot. He was honored to have these designs hung in the Montana State Capitol building.
Around this time, he moved to Missoula, MT to work for The Rocky Mountain Elk Foundation where he did layout design for Bugle Magazine, and designed and built displays and signage for the 2001 Elk Camp Convention in Albuquerque, New Mexico. He later took a job with Cedar Mountain Data Design where he worked on web development for several local businesses including Trout Unlimited Federation and more.
In 2003, Justin moved to Columbus, GA to work for Jordan Outdoor Enterprises LTD. (Realtree and Advantage Camouflage Brands) in their marketing department and soon became the Pattern Designer and Special Products Manager. Here he spent over 15 years designing camouflage patterns from concept to completion. These designs were licensed to retailers and manufacturers globally. Upon final approval he would develop the first standard fabric prints with textile mills on the east coast and southeast. These prints were the benchmark for all print items to match to going forward. Justin designed several ad campaigns, products, packaging, and branding items over the years as well.
With many adventures in his life and career, family, art, design and nature are always present. Today Justin enjoys painting in encaustics and pushing the boundaries of himself and this medium. He continues to build upon his skills in other mediums and likes to combine them whenever possible. He currently works as a full time artist and lives with his wife and children in Canton, MS.
Read More